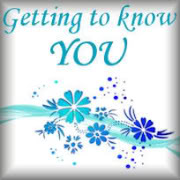 Lynnette Kraft, homeschool momblogger and author of the newly released book, In Faithfulness, He Afflicted Me, is hosting a fun Getting to Know You idea over on her blog. It's shaping up to be a great way to find out about other blogs! If you have a blog, you can join in on the fun – just leave a comment on her post telling about your blog(s) and five of your favorite blogs. Here are the five favorites that I listed:
1. Naomi Anne – my little sis' blog.
2. A World of Buildings – my little bro's blog.
3. Renewed Day by Day – Lydia's blog.
4. Biblical Womanhood – Crystal's blog.
5. Life in a Shoe – Kim's blog.