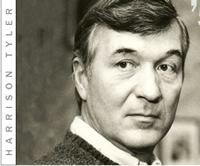 My little brother, Joey, loves to tell people that his grandpa was born 100 years before him. My Dad's dad was born in 1897, and Joey was born in 1997. Sadly, Grandpa died 14 years before Joey was born, so he never had a chance to get to know him. I've always teased Joey that he has a rather skewed concept of what a "normal" generation is as a result of the large age differences between Grandpa, Dad, and Joey. However, I discovered today that he is in good company!
Harrison Tyler, former homeschooler and grandson of President John Tyler, was born 138 years after his grandpa! And his grandpa died 66 years before he was born. I had to get all this written out in detail to see if it was for real 🙂 :
John Tyler was born in 1790.
He and his wife, Julia, had Lyon Gardiner Tyler in 1853, making John 63 at the time of his birth (Julia was 33).
Lyon Gardiner Tyler and his wife, Sue, had Harrison Ruffin in 1928, making Lyon 75 at the time of his birth (Sue was 39).
Guess I shouldn't give Dad such a hard time anymore about how old he was when Joey was born. These ages make him look like a young pup!
Additional Resources:
Virginia Tech Article about Harrison Tyler and his business success
Vision Forum tribute to the Tyler family legacy
Genealogy of John Tyler and his descendants