Today, I am pleased to welcome Mr. George Escobar, homeschool Dad and Founder/Executive Director of Advent Film Group for part one of an interview he graciously agreed to do here on Pajama School Blog. This is part of our week-long series on the newly released movie, Come What May. Mr. Escobar led the way into the production of this movie, and I'm sure you'll find yourself getting more and more excited, not only about this film, but also about the potential for homeschoolers to be involved in the Christian film industry, as you catch a glimpse into the people and vision behind Come What May.
Pajama School: What is your vision for Come What May?
Escobar: Making this movie available for "such a time as this" is truly providential. None of us working on this movie had a vision clear or wide enough to see the reasons for Come What May (CWM) being made and distributed at this time. Only God's vision is good enough and trustworthy. That means wherever we see Him leading, we should follow, obey, even if we don't fully understand His direction. Back in mid 2007 when we began production, then later by mid 2008 when we had our final cut edited, we didn't fully comprehend God's vision for CWM. But now we know.
The political climate has changed dramatically. Barriers to abortion are being torn down piece by piece by a President and Congressional leaders who do not understand the sanctity of life. CWM was made as one of the tools to educate people about when life really begins and the legal arguments necessary to overturn Roe vs. Wade.
We also model an answer to preventing pregnancy in the first place, which is abstinence through purity, modesty, and chastity. It's exciting to see God's vision for Come What May come into clearer and clearer focus.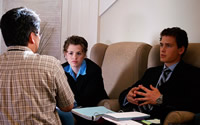 Pajama School: How did you go about recruiting the cast and crew that were a part of Come What May?
Escobar: Finding our adult cast for "Don and Judith Hogan" – We didn't want to cast the normal way (open casting call over the internet or open auditions) because when we did that we got a lot of "unsavory" submissions. We just didn't know the true character of the actor/actress. We could see what they did before, but there's no telling what projects they would do next. So we prayed about it. A very specific prayer: Lord please bring us: a) professional actors; b) that they would be married; c) they would be Christian; d) they would know homeschooling or are homeschooling parents; e) they love teaching acting to young actors; f) they would have 5 weeks to work with us; g) that we could afford them. The Lord answered everyone of those very specific prayers and He brought us Karen and Kenny Jezek. That's a miracle. But stop to think about this, God knew we were going to need the Jezeks, so He began preparing them to be ALL of these thing 15 years ago when they began their own walk in Christ.
Finding our student cast
We went to the source of great communications talent for homeschoolers, which is the National Christian Forensics and Communications Association (NCFCA), the speech and debate league for home schooled students. We held auditions at the NCFCA National Championship where I auditioned 30 young ladies for the role of "Rachel" and 6 young men for "Caleb."
Here's how Victoria and Austin got their parts: Victoria answered an online request for people to audition for roles in CWM. She contacted me and realized we would both be at the NCFCA championship in Belton, Texas since my son, Gregory, was also competing in debate. We decided that Victoria should audition there. The audition took a little twist. The person who was to read with Victoria was called away, so she had to find someone else. She raced across campus through a thunderstorm, to the dormitory of an acquaintance, Austin Kearney. She arrived at his door soaked, and asked him to read with her for her audition. Austin said yes, and both Austin and Victoria ended up receiving leading roles.
Pajama School: When did you begin homeschooling your sons, and what led you to that decision?
Escobar: We began homeschooling our three sons before they were born. The Lord led us to have lunch with Mike and Elizabeth Smith and their two kids, Erin and Andrew. This was over 20 years ago, before my wife and I even had children. We were so impressed by Andrew (12) and Erin (9), who were so articulate and engaging that we asked, "how do you raise kids like them?" That innocent question opened a discussion about homeschooling. It turned out that Mike was Vice President of Home School Legal Defense Association. (He is now the President). We committed to be homeschooling parents during that lunch. It was the best decision we ever made for our family. We also began a life-long friendship with the Smiths.
Join us again tomorrow for part two of this interview as Mr. Escobar shares practical ideas for homeschool students who are interested in getting more involved in the film industry...
And don't forget to enter the drawing to win your own free copy of Come What May!