Today, I am thrilled to welcome Victoria Emmons to the Pajama School blog for an interview! Victoria starred as Rachel Morton in the film, Come What May. If you are just joining us for this series, you can catch up on some of the other posts here: Intro Post | Win a Free Copy of the DVD | Interview with George Escobar – Part One | Interview with George Escobar – Part Two | Interview with George Escobar – Part Three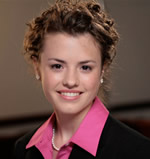 Pajama School: How did you come to be cast in one of the lead roles in Come What May?
Victoria: In high school I was involved in speech and debate. June of 2007, I went to speech Nationals in Texas. I was offered a chance to audition. So I did…and I got the part. 🙂
Pajama School: What is the heart of the message that you want others to take away with them after watching Come What May?
Victoria: The overarching theme of Come What May is one of doing what's right, no matter what the outcome may be. While each of us may have different challenges and situations that we are faced with, Come What May encourages us to glorify God in all we do.
Pajama School: What similarities are there between you and your character, Rachel, in Come What May? What differences?
Victoria: At first, when I read the script I said to myself, "Rachel is a perfect person, I can't play her. I don't know how to give her life." But as I studied her and learned her habits and interests, I realized how similar we really were. So then I could basically just act myself, with a little more seriousness. Rachel and I are pretty similar and that shows you what a good casting director they had. Both of us are very passionate about the unborn. We both like apple pie. We both are really bad at throwing paper balls at people. 🙂 We both love speaking in front of crowds. We both love music.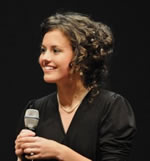 How are we different? Rachel is a little more serious than I am. She is very studious and thrives on research. I'm a little less intense and more laid back. While I did compete in speech events in high school, I never actually did the debate part. So I had to do a lot of research to learn how a moot court debater speaks. I watched videos and talked to moot court coaches to see how a round works and how animated I should be while speaking.
Pajama School: What experiences and training do you think best prepared you for your acting role?
Victoria: Ever since I was very young, I've enjoyed participating in musicals and different stage shows. My sisters and I were always putting on little shows and hamming it up in front of the family video camera. Competing in speech really helped bring out my dramatic side. Also, performing with my sisters in the band in front of live audiences really helped me feel comfortable acting in front of a more experienced cast and crew.
Pajama School: How has homeschooling helped shape your worldview and motivation for being a part of the Christian film industry?
Victoria: I am passionate about Christian film making and I believe homeschoolers will be a major force in producing great family films. As a Christian, I want to live my life so that it is a glory to the Lord. This carries right over into film making. I think the movies we make should impact the world for the better.
Pajama School: What advice would you give to other girls who have a desire to become actresses?
Victoria: Mr. Escobar, co-director and producer of Come What May, always says that if you want to act…then act. Don't wait for people to let you act, but instead, make your own films and act in them. It's really the best way. Local communities usually have a small theater group that is a great start for ambitious actresses. Even though it might seem like a small step, it's a step forward, not backward. Try it out and see if acting really is something you love to do, and keep your eyes open for other opportunities.
Before you do start acting, check to make sure you're doing it for the right reasons. The film industry can be such a weird place for actors. If your priorities aren't right, then you'll either get a big head, or you'll get overwhelmed with the work that goes with the role. No matter what you do, do it for the glory of God. Seek His will for your life, don't just get in the industry because you want people to know your name. But rather, make the name of the Lord your ultimate mission.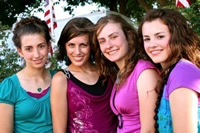 Pajama School: Tell us a little bit about "The Emmons Sisters."
Victoria: My three sisters and I have a bluegrass gospel band called The Emmons Sisters. We've been performing together for almost 7 years and we have 4 CDs out and one on the way. We've been so blessed to be able to share our music through performances up and down the west coast. There is nothing quite like sharing a stage with your sisters. It's been such a good thing for us. You can learn more about our band on our website: www.theemmonssisters.com.
Pajama School: Any additional comments or thoughts you'd like to share?
Victoria: I am so blessed and thankful to have been able to work on this film and meet so many wonderful people. I am so excited about the release of Come What May! The best thing that the home school community can do for the AFG team is to simply see the film and tell others about it. We really appreciate your support and interest. May the Lord bless you!