One of our family's favorite things to do is travel to new places and experience new things. We love pulling out our big road atlas, dreaming of the trips we'd like to take, discussing the things we'd like to do along the way, etc. For this reason, I was thrilled to discover the relatively new Travel 2 Educate website that has been co-founded by Rachel Kokosenski to help families incorporate educational activities into their travels! I've already been enjoying perusing the website, and today I am excited to welcome Rachel here to the Pajama School blog for an insightful interview. Enjoy!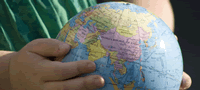 Pajama School: What inspired you to start Travel2Educate.com?
Rachel: I grew up in a family that always did educational activities and trips with us. We frequented museums and cultural events from a very young age and this became a natural source of fun for us. I can remember being asked what amusement parks I'd been to when I was a child and saying that I'd been to Disney World once, then excitedly added, "But, I've been to the MOMA, the Guggenheim, the Field Museum of Natural History, etc.!"
Recently, when I researched "family travel ideas," I was disappointed to see that the majority of them focus on going to the beach, camping, or amusement parks. It was possible to find information on educational ideas for family travel, but it took a great deal of research all over the Internet. It seemed logical to me to create a "one-stop shop" for like-minded parents to find information for creating educational travel opportunities for their children. We chose to focus on homeschool families in particular because they tend to naturally seek out non-traditional learning opportunities for their children as well as have the flexibility in their schedules to travel to more destinations.
Pajama School: What makes Travel 2 Educate different from other travel information websites?
Rachel: Our information is geared specifically to family-friendly, educational information about different destinations. You can research ideas and book your travel all in one place. We go beyond the typical tourist offerings and seek out learning activities for children of all ages. In addition, we provide information on how to plan your vacation, save money, and get the best value for your dollar. Our Google Group – Travel 2 Educate – offers the opportunity for visitors to our site to share their own travel experiences, photographs, and travel tips.
Pajama School: How can homeschool families best utilize the resources you offer through Travel 2 Educate?
Rachel: Visit the site often and sign up for our free e-newsletter to get additional information, win prizes, and stay on top of hot educational travel ideas. By joining our Google Group – Travel 2 Educate – you can contribute your own ideas, experiences, and photographs or ask questions about activities, destinations, or how to develop educational components to your travel experiences.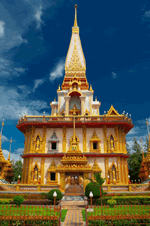 Pajama School: Can you tell us a little about your family and your own travel experiences?
Rachel: My husband, who is the co-owner of Travel 2 Educate, is a corporate pilot and travels a lot more exotically than I am able to at the moment! He often contributes photographs for our website articles and does research "on the road" for the website. He enjoys traveling more with us than for work, but admits he has been fortunate to get to travel to some pretty amazing destinations.
We are adopting our 4-year-old son at the moment and have done some traveling with him; we are currently restricted to domestic travel, but look forward to getting him his first passport! He has a definite sense of adventure and loves to learn, so it will be fun to begin showing him the world as soon as we can.
I enjoy traveling, immersing myself in different cultures, and learning new things. I love the freedom of getting out of the ordinary. I've planned trips to popular destinations, such as Ireland, but try to always seek out unusual experiences in those destinations. For example, while I was in Ireland, I swam with wild dolphins in a little town in southwest Ireland, called Dingle. For the record, it was an amazing experience and very inexpensive – much better than swimming with them in a pool in the U.S.
Pajama School: Do you have any favorite travel destinations?
Rachel: Ireland, Hawaii, New York City, and Montana are my top choices at the moment. But, I am hoping to plan a lot more travel in the coming years and will certainly add to my list of favorites, I'm sure!
Pajama School: Do you have any plans in the works for further developing Travel 2 Educate?
Rachel: Yes, I have a Masters of Education and I am working on developing a new section of our site that will focus on curriculum ideas that can be created based on travel experiences. These will be segmented by age/grade level and available as E-books for a nominal fee. I hope to have the beginning lessons available by the fall of 2009 and will continue to produce more in the future.
I'm sure we will be adding some additional information and sections to the website, but they have not been firmed up at this time. The best thing to do is to "stay tuned" by subscribing to our e-newsletter!
Pajama School: Any additional comments or information you'd like to share?
Rachel: I really appreciate the opportunity to be interviewed by you on Pajama School blog and I invite your readers to start planning their educational travel through Travel 2 Educate!