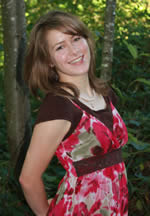 Can you tell us a little about your family and when and how you all came to the decision to homeschool?
I would love to! I am nineteen years old and have an identical twin sister, Mikaela. We are the oldest of six kids—four girls and then two boys. My parents never imagined that they would homeschool their children; they went to public or Christian school their whole lives. Five years after they were married, however, the Lord had them move about eight hours away from their family, which was difficult, but it separated them from the pressure of their family's public school mindset. They began meeting people who were actually homeschooling, and the Lord started His work in their hearts, showing them that homeschooling was His desire for them as well. My mom gained this vision first, and took my dad along to a homeschool conference where he warmed up to the idea. Still, they thought they would only homeschool until junior high or so. Two homeschool graduates later… 🙂 Therefore, I have been blessed to have been homeschooled since preschool.
Looking back, what are some of the specific ways that you think homeschooling helped prepare you for life after graduation?
There are a myriad of ways homeschooling prepared me! One example is that homeschooling gave me the confidence to do things differently and to stand alone for righteousness. In the world, I have to know exactly what I believe and why I believe it or I will not stand strong. If I am too concerned about what others think, then I will fail as a Christian. Homeschooling taught me that it was just fine to be different!
Another way homeschooling prepared me is by giving me life skills of responsibility, initiative, and diligence. Everything high school graduates do requires those skills, and I know that homeschooling equipped me with those better than traditional schooling could have. My thorough education is a blessing in so many ways as I see public school graduates who are handicapped by a deficient education.
You are quite an accomplished musician! What have you done to pursue your musical interests and develop your talents in that field?
Thank you, Natalie! I began violin when I was six years old and started piano five years later. I have consistently taken private lessons since then and continue to do so. My mom wonders when I will stop, but I am not ready because I know I still have so much to learn! When I was about fourteen, I joined a local youth symphony that gave me wonderful incentive to work harder, and I really enjoyed that. Two years later, I joined the Southwest Washington Symphony, a community symphony filled with many excellent musicians in our area. I also began teaching around the same time. I flew to Indianapolis last year to take a three-week Christian music course that covered everything from theory to history to copyright law to Biblical standards on music! Last year I was also able to go to Utah for Suzuki training in teaching the violin, and I continue to enjoy both violin and piano, with a little viola thrown in for good measure! I love to play chamber music with my family—it is a wonderful activity to draw us closer together!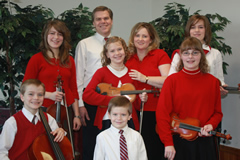 When did you graduate and what have you been doing since graduation?
I graduated in June of 2008 and immediately began pursuing a degree in Music Ministry through an online college program. I am thoroughly enjoying this education and am learning so much! The degree combines Bible classes with music classes, and many of the things I do at home (taking lessons, playing with the symphony, etc.) count for credit. I hope to be done with that next December. I manage to be quite successful at staying very busy by spending time with my family, being very involved in my church, and having many music commitments!
Did you experience any disadvantages as a result of homeschooling?
To paraphrase Dr. Voddie Baucham: "Yes, there was one thing I missed out on by not going to public school. I never learned to stand in lines." 🙂 In all seriousness, after wracking my brain, I can only think of a situation where there was a music competition which I was not allowed to enter because I was not public schooled. I highly value my homeschool education and wouldn't trade it for anything!
What encouragement would you offer to other homeschool students?
Stick with it. Don't think in terms of two years, think in terms of twenty years and you will see the merit of the education you are receiving! Appreciate your parents' immense love for you and support them in their efforts. Be bold in being different from your peers!
Do you anticipate homeschooling your own children someday? Is there anything you would do differently?
There is no question in my mind as to whether or not I will homeschool my own children someday, should the Lord bless me with them. In fact, I would never even marry someone who had doubts about homeschooling—it is mandatory for me because I see the huge advantage of homeschooling versus traditional education! As for my list of things I would do differently, these things aren't so much different from my parents as much as they are things that I feel strongly need to be key elements of my children's education. I would try to establish a feasible, consistent way to grade so that I could monitor my children's progress. However, I also desire to emphasize discipleship even more than academics so that my children will be spiritually and academically sound. Although programs like BJU's Homesat worked well for our family, at this point I cannot see myself using it for my own children. I do, however, see the value of spending an allotted amount of time each day with each child, even the older ones who may work independently.