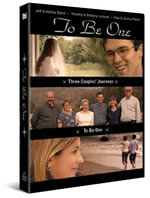 On Wednesday evenings, we have a movie night at our house and the rest of the family lets me choose a video for all of us to watch together. I have collected several sets of documentaries and lectures and we've enjoyed watching and learning from them over the past several years. When I recently came across the documentary To Be One, I was excited about the opportunity to view and review it. It arrived Wednesday afternoon – just in time to make it the selection for this week!
I wasn't sure what to expect from a documentary highlighting the path to marriage for three couples. There are so many different views on dating, courtship, betrothal, etc., so I was prepared for a reiteration of various principles and teachings that I've heard over the years advocating for a specific approach or set of rules to follow. I was pleasantly surprised to find that that's exactly what this video isn't. Having experienced close-up the courtship of one of my sisters (a story that I share in my book), I echo the truth that God deals with relationships on a personal level, not according to some set formula. It's important that we don't become attached to extra-biblical ideas and expectations, but instead trust that God will work according to His purposes in our lives and relationships.

To Be One does an excellent job of emphasizing the centrality of the Lord Jesus Christ and the importance of earnestly seeking Him to guide each of us in matters involving relationships (just as in all else). Each of the three couples that were featured (Jeff and Ashley Baird, Timothy and Brittany Lindvall, and Max and Jenny Parish), along with their parents, shared the very different approaches that ultimately led them to marriage. They each shared specific ways that the Lord led them, making His will clear to them so that they were able to proceed with confidence. A desire to seek the Lord, maintain purity, and honor and involve their parents in the process were unifying themes of each testimony.
In discussing the video afterward, our family concluded that this probably wouldn't be the best way to introduce alternative relationship practices to someone whose only frame of reference is the dating culture (it might be a bit much – i.e. radical – at points for someone to handle all at once!). But for someone who has already heard about courtship and/or betrothal and is interested in learning more about the heart that undergirds such counter-cultural approaches, To Be One is both informative and inspiring. One thing that especially stands out to me after having watched this documentary is the great deal of thought and care that each of these families put into preparing for and entering marriage. It is a refreshing contrast to the flippant attitude with which most young people today approach relationships. As my Dad declared after watching it, it certainly "provides some food for thought."