This year, I've done considerably more comprehensive planning of goals that I want to accomplish, steps to achieve them, streamlining of my financial record-keeping, and re-organizing of other files. There is a certain trepidation in working quite so hard toward organization because I don't want to feel like I have my life pulled together to the extent that God feels the need to throw in some unexpected catastrophes to remind me to look to Him alone for my security and stability. I'm not saying unequivocally that God would do this, just that I want to be proactive in maintaining a spirit of dependency upon Him and not deluding myself into thinking that I am self-sufficient. Toward this end, a line from the hymn, Be Still My Soul, has replayed itself often in my mind:
"Leave to thy God to order and provide;
in every change He faithful will remain."
So, I aim this year to to be wise and prudent in planning, yet submissive and flexible in accepting whatever changes God brings my way day-by-day.
Much of my time each week is occupied teaching my wonderful music students and, by extension, serving the broader music community. For those who may not know, I run Music Matters Blog – a site replete with "creative, practical, and up-to-date resources for the independent music teacher."
In other weekly news, I love cooking and one of my favorite things to do is experiment with new recipes. Some of my family members love this; others do their best to devise reasons to not be home for dinner on Friday nights – my designated cooking night. 🙂 One of the things I'm especially interested in is learning more about herbs and spices and how to use them effectively in different foods (the open-the-cupboard-and-randomly-add-spices-to-the-dish method that I tend to employ is perhaps a factor in the afore-mentioned aversion to my cooking experiments by some family members…?).
My good friend, Lydia, also enjoys cooking, so we've decided to become cohorts in the kitchen this year. We launched our endeavor at her house this week with a foray into some Chinese delicacies. She and her Mom, Sherri, introduced me to their method of making egg rolls and I took along a recipe for some almond pastries (okay, not exactly Chinese, but I've been wanting to make these for a long time and this seemed like the perfect occasion to finally do it!). Anyway, here we are displaying the scrumptious results of our labor.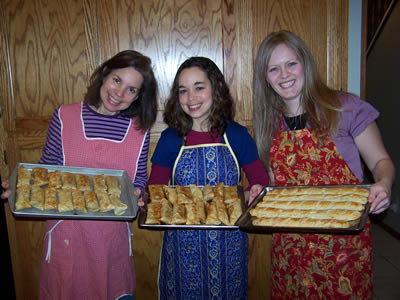 Hopefully I'll have more cooking success stories throughout the year. And I'll try to post some of our favorite recipes as well!
Those of you who have read my book, Pajama School, know that I have a bit of a love-hate relationship with politics. Nevertheless, I did experience a bit of the campaign season itch when Dad, Naomi, and I attended the Great American Forum this week that unofficially launched the hotly contested race for the U.S. House Seat in Kansas' 4th District. There are five republicans running in the primary and even though we are already supporting one of the candidates, we wanted to get a better idea of who the other candidates are and what their positions are on various issues.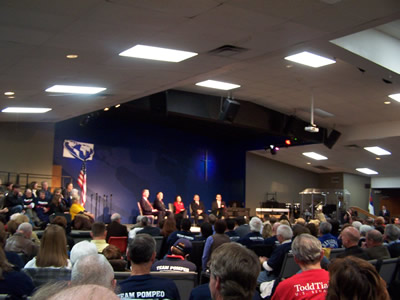 The turn-out for the forum was incredible! It was obvious that even the organizers had not expected so many people to attend. There are critical issues being decided in Congress that will affect our families and our nation for many years to come. We are reaping the results of years of complacency, compromise, and corruption, and perhaps the disastrous consequences are spurring more people into action. The battle must be fought on many fronts, but the choosing of our representatives should be of chief importance to every American, for there is a blessing attached to the rule of the righteous:
"When the righteous are in authority, the people rejoice: but when the wicked beareth rule, the people mourn."

Proverbs 29:2
I'm so grateful that we have righteous men running who will represent us well and uphold biblical and constitutional principles in their policy decisions. As each of us continue to serve in the roles that God has called us to, I hope that we will also recognize the importance of investing our time, energy, and finances on behalf of those whom He has likewise called to serve Him by representing us in our local, state, and federal governments.