Funerals don't fit very neatly into a schedule. Nobody sends "Save the Date" cards to give everyone advance notice so that they can block out the date and time on their calendar. But funerals are an essential part of life – worth making time for, in my opinion, because they impart a level of sobriety that is seldom experienced otherwise. The reality of death prompts introspection and a renewed sense of eternity.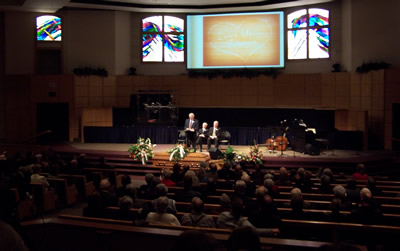 A dear, godly, 92-year-old man passed away last week, leaving behind his wife, daughter, two granddaughters, twelve great-grandchildren, all their families, and numerous friends who were touched by his life – including me. Gerald Snodgrass was the beloved dishwasher at the Tea Room where my Mom and sister and I worked for several years. (Those of you who have read my book may recollect him from the chapter, In which I serve tea and solve mysteries.)
And so it was that Monday of this week found us traveling across town to attend the funeral service for Mr. Snodgrass. In the midst of sadness, we also experienced the joy of catching up with old friends, the blessing of reminiscing about treasured memories, and the inspiration of honoring the incredible legacy that Mr. Snodgrass has left behind.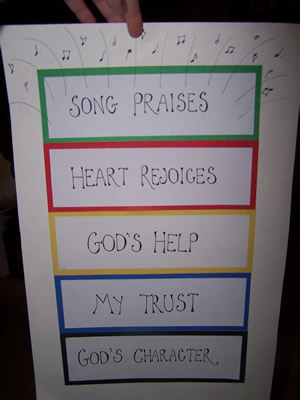 I was asked to speak this weekend at a retreat for a group of student worship leaders from a local university. After a full week of teaching, meetings, and trying to meet deadlines on various projects, the retreat proved to be a refreshing time of fellowship and worship. The organizer did a fabulous job of maintaining a casual atmosphere even with a very full schedule, and I was greatly blessed by the biblical and Christ-centered focus of the event. All of the leaders are international students and I always love meeting Christians from around the world, learning about their culture, and drawing out their perspectives on various issues.
The verse that I used as the basis for my session was Psalm 28:7, "The LORD is my strength and my shield; my heart trusted in him, and I am helped: therefore my heart greatly rejoiceth; and with my song will I praise him." A while back, in the course of our music-themed Bible study, my sister and I came up with the above diagram as a representation of God's natural design for musical expression. I put together a larger version for the retreat and used it as a visual during my presentation. Here is a brief overview of what I shared:
1. God's Character ("The LORD is my strength and my shield") A right view of God forms the foundation from which our music must flow.
2. My Trust ("my heart trusted in him") A right view of God should lead us to look to Him for guidance and help in every situation.
3. God's Help ("and I am helped") God wants to show Himself strong on behalf of those who trust Him.
4. Heart Rejoices ("therefore my heart greatly rejoiceth") Experiencing God's help affirms our faith and fills us with joy.
5. Song Praises ("and with my song will I praise him") The overflow of joy in our heart will pour forth in praise to God.
In the course of preparing for the retreat, I came across a couple of quotes that I really liked and included in my session. The first is from the book, The Soul's Quest for God, by R.C. Sproul:
"Nothing can be in the heart that is not first in the mind. Our hearts cannot be inflamed about something we know not of. Unless we know God deeply, we cannot love him deeply. A faint understanding of God is enough to begin the heart to stir. Emotions may be kindled by the slightest acquaintance with the majesty of Christ. But for that spark to rise into a consuming and lasting fire, our knowledge of him must increase."
The second quote is from George Mueller, and was gleaned from a wonderful biographical sketch of George Mueller on the Desiring God website:
"I saw more clearly than ever, that the first great and primary business to which I ought to attend every day was, to have my soul happy in the Lord. I saw that the most important thing I had to do was to give myself to the reading of the word of God, and to meditation on it. . . . What is the food of the inner man? Not prayer, but the word of God; and . . . not the simple reading of the word of God, so that it only passes through our minds, just as water runs through a pipe, but considering what we read, pondering over it, and applying it to our hearts."
In other random news this week, I finally found a pizza sauce recipe that I really like! I made deep dish Chicago-style pizza for dinner one night and did some tweaking of another recipe to come up with a concoction that was a winner with the whole family (a difficult feat, to be sure!). Here it is:
Ingredients:
14 oz. can crushed tomatoes
14 oz. can diced tomatoes, undrained
3 Tbsp. olive oil
1 Tbsp. dried basil
1 tsp. dried oregano
½ tsp. dried marjoram
¼ tsp. salt
3-4 cloves of garlic, finely minced
Directions:
Combine all ingredients in a medium saucepan over medium-high heat. Bring to a boil, then reduce heat and simmer. Allow to cook for about 30 minutes. Once finished cooking, remove from the heat. Serve immediately or store in an airtight container in the refrigerator.