As my generation of homeschool graduates begins to make their way in the world, more and more of us are recognizing the incredible legacy that our parents have given us. That's why I am thrilled to be a part of a project initiated by Amy Puetz that compiles the writings of 20 homeschool graduates as they reflect on their homeschooling experiences. Amy's vision resulted in a wonderful e-book called, Thank You! 20 Homeschool Grads Tip Their Hats to Homeschooling Parents. The book is sure to be a blessing and encouragement to many homeschooling parents (and students and graduates as well – I know I'm enjoying reading the other contributions!).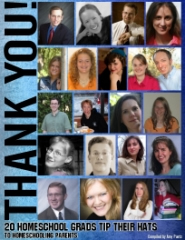 Here's a peek at the 20 homeschool grads that contributed to Thank You!:
Kevin Swanson – Generations with Vision
Amy Puetz – AmyPuetz.com
Rachel Starr Thomson – RachelStarrThomson.com
Candace Allgood – Sonbeams
John Notgrass – JohnNotgrass.com
Lea Ann Garfias – Whatever State
Jana Kornfeld – A Time 2 Write
Jonathan Lewis – Homeschool Enrichment
Katherine Loop – Christian Perspective
Rachel Ramey – Titus 2 Homemaker
Daniel Mills – Salem Ridge Press
Mary Evelyn McCurdy – Christian Musical Theatre
Matthew Lewis – Homeschool Enrichment
Abby Kelly
Natalie Wickham – Pajama School
Eleonore Kappenman – Kap and Pen
Samantha Jarrett – Sammer's Stuff
Emily Topp – Homeschool CPA
Amanda Read – AmandaRead.com
Eric Novak – Cross-Eyed Blog
The e-book is priced at $7, but is available until the end of June as a free download, so grab it now while you can! 🙂 After June, 2010, you can purchase it at AmyPuetz.com.