As I mentioned in my review of The Runner from Ravenshead, I had the opportunity to spend some time one afternoon with the cast and crew of Little Crew Studios (a.k.a. the Steege family). After watching the film and being blown away by the quality, I wanted to get a behind-the-scenes look at how five kids under the age of ten, guided my a mom and a dad, were able to pull off such an incredible feat!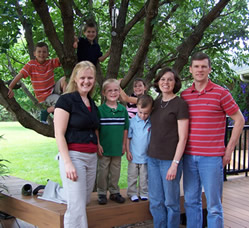 Where did the idea for the storyline come from?
After starting with two others and eventually scrapping them, Joel said that they settled on a simple concept – an escape and pursuit theme. They built the story around the Old Testament Cities of Refuge that were a foreshadowing of what was to come with Christ.
How did you acquire the skills to produce the film?
When I asked this question, Joel interjected with a slight rewording, "You mean, 'How are we acquiring the skills…?'" Their family saw this project very much as a learning experience, often stopping filming along the way to learn new skills that were needed in order to continue. What one might realistically expect to accomplish in six months took them two years because of this approach.
Amelia told how one of the drawbacks of the long time frame was that by the end of the filming they had almost outgrown their costumes! The kids took it all in stride, though, and obviously enjoyed the process very much. And in spite of their young ages, each one is becoming well-acquainted with the film industry and is learning skills that will serve them well the rest of their lives. Brendan was especially excited to share about his oversight of the mic, a very essential component in good filming!
The off-set time devoted to learning skills consisted of building a library of books dealing with every aspect of producing a film and studying them intently, participating in on-line classes, and getting insight from others in the field. One thing they realized and accepted is that they couldn't do everything in one film. It was important for them to retain focus and do what they could do well. For example, in The Runner from Ravenshead,  a static camera is used almost exclusively due to the equipment limitations the Steege's faced. They acknowledged this limitation and then worked with it to their full advantage.
How did the children prepare for their roles?
The Steege's started out by giving their children a copy of the script, reading it together, and then working with them to memorize the lines. According to them, "It didn't take." Recording the lines in an audio format so that the kids could listen on their own and at night in bed proved to be a much more effective learning strategy. Most of the rehearsing was parent-directed, but even when they were playing sometimes they would be rehearsing lines or scenes with each other.
Lisa also mentioned that when she and her sister were growing up they memorized Scripture passages and put hand motions to them, then recited them in front of large groups of people. She carried on this practice with her own children so that they would get accustomed to memorizing and being able to recite things in front of an audience.
All of this training has proved very effective, because each of the young cast members did a fabulous job interacting during the interview and contributing valuable bits of information. 🙂 And their presence in front of the camera is superb as well!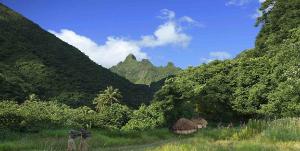 How long did it take to produce the film?
The filming was sporadic, as it was 100% dependent on the weather. Consistent lighting was a major consideration that affected filming hours as well. During the actual filming, 70% of the recorded audio had background noises – most notably due to the flight path right over the filming location. For this reason, the Steege's opted to record all of the audio separately. As you might expect, it was a challenge to balance working too much on the film (which would burn everyone out) and taking breaks that were too long (which would result in loss of focus and memory).
What are some of the major deficiencies in the Christian film industry today? How did you seek to avoid those with The Runner from Ravenshead?
There's still a pervasive feeling of poor quality because most Christian films have a small operating budget. Without the funding, you're not going to have as many professionals working on the project. In The Runner from Ravenshead, the Steege's wanted the name of Jesus to be prevalent, but not over-the-top. Although Joel asserted that there is a place for all types of Christian films, they aim to make theirs engaging and meaningful without resorting to a preachy feel. People go to watch a movie for fun, not to hear a sermon. As a filmmaker, though, you want them to leave not only entertained, but also with a sense of hope and the idea of something bigger.
For some time now, I've felt like one of the hindrances to quality acting in independent Christian films is that acting is still not perceived by many Christians to be a legitimate career choice. While great strides have been made in many of the technical aspects of filmmaking, I've observed very little emphasis on acting. When I posited this to the Steege's, Joel readily agreed. In fact, he said that at a recent film festival, one of the producers who spoke said that if he had a $50,000 budget, he would spend $40,000 of it to get one good actor!
What was the hardest part about the production?
Undoubtedly trying to do the project while simultaneously having to learn so much of the "nuts and bolts" of the field itself. Particularly with some of the technical aspects of filmmaking, there is a steep learning curve, making it hard to move forward until you've developed a better working knowledge. Harrison is one of the ones responsible for rendering and said that he felt like editing and piecing everything together was the most challenging part of the production.
What are some of the key things that you learned along the way?
Amelia expressed that she had learned a great deal about acting. Lisa added that all the kids learned a lot about how to be relaxed in front of the camera. There's a lot of tension on the "hot seat" and it's amazing how every one of the other kids can be reciting the lines effortlessly while the one in front of the camera flounders. Apparently this same phenomenon plagues even the most experienced actors and actresses! Clint Eastwood avoids using the term "action" altogether when the cameras start rolling because of the negative reaction it generates from those on set.
Brendan pointed out that he especially enjoyed learning how to do the mic. And Lisa said that endurance was a major emphasis, too, as they sometimes spent long hours working and re-working scenes to get them just right. Obviously there are frustrations and irritations along the way, but by-and-large working on this film project has been a wonderful adventure for the whole family. Addison concludes with, "We've got a long ways to learn!"
What advice do you have for other aspiring filmmakers?
Without hesitating, Joel exclaimed, "Go make a movie!" There's nothing that beats hands-on learning. If you have the opportunity to work with a mentor, that would be great. A lot of learning the craft, though, involves trial and error. You have to know when to use the "tried-and-true" formulas and when to break them.
You also have to realize going into the project that it's big. Good quality productions are hard without good quality people. Don't expect to produce your best movie first. It takes time. After all, you're trying to learn and replicate the quality that you see in films where people have devoted their entire lives to honing their skill in a particular area. So keep a learner's attitude and be patient.
The Steege's dream is to continue doing this long-term as a family. And if their productions keep getting better from here on out, I can't wait to see what they come up with next!