If you're interested in reading about all things writing, be sure to stop by this month's issue of Generation Impact!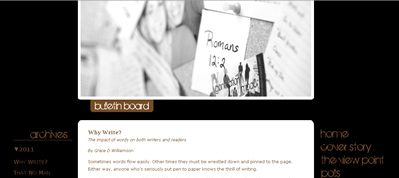 My good friend, Grace Williamson, and her inspirational team have done a superb job putting together a collection of articles, reviews, and tips for writers. She even includes a few quotes from yours truly on the Bulletin Board topic, Why Write?, along with thoughts from two other young writers – Tim Sweetman and Rachel Starr Thomson. You will also find an informative interview with author and writing mentor, Caleb Breakey.
If you haven't visited the Generation Impact online magazine before, you may want to click through the archives. You'll find it chock-full of interviews, articles, reviews, and more – by homeschool graduates, featuring homeschool graduates, and designed to encourage homeschool graduates (and others!) to impact their generation for Christ!