[This is a homeschool grad interview that was featured in the latest issue of Home Educating Family.]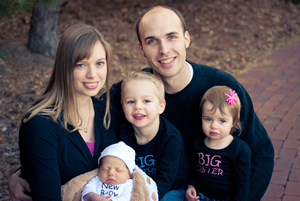 Will you tell us what it was like growing up in your family (when you started homeschooling, how many siblings, etc.)?
I am the second of six children, five of whom are boys. Our house was rambunctious growing up, but I never sensed that my parents wanted anything different. My mom showed a lot of patience and perseverance. We started "homeschooling" when my older brother Cal was ready to start school, but I don't think there was ever a time that my parents weren't teaching in some manner.
I loved the things that boys are known for: fishing, camping, wrestling with brothers, playing guns, computer games, airplanes, and especially doing things with my dad. Cal and I joined a Boy Scout troop with another friend when we were old enough. That was a large part of my life through high school and I eventually earned my Eagle Scout. In all of our activities my parents drew out spiritual applications and encouraged us to grow closer to the Lord through difficulties. Seeing God move directly on several occasions greatly deepened my faith.
What are some of the highlights of your homeschooling experience?
Being able to set my own schedule for the day. Most of my study was on my own, and the sooner I finished, the sooner I could do stuff I really wanted to do. Beyond that, I loved the ability to learn from many different environments, not just the traditional classroom. I spent time working on a farm and attended several music courses in another state. I can play the piano for my church to this day because of those courses! Adventurous camping trips with the Boy Scouts and piano competitions were also highlights.
I've always been impressed by your ability to connect with people of all ages and backgrounds, and your heart for sharing the Gospel with them. What suggestions do you have for those who would like to grow in these areas?
I remember being scared to hand out Gospel tracts to people, let alone talk to them about Jesus, and the burning in my heart knowing that in a sense, I was "ashamed" of the Lord – or at least that my fear of people was greater than my love for Him.
I had several profound experiences and mentors that God used to shape this area of my life. The first was a mission trip to Mexico at the age of 15. It was on this trip that sometimes I didn't even pass out a tract because I was scared to do so. But I watched my pastor, several men from the church, and my brother Cal boldly talking to people and giving them tracts, and slowly I gained the courage to do so as well. Two years later when I returned to Mexico, I was even more convicted of the need to tell people about Jesus. Often now, my motivation in striking up a conversation with someone is almost entirely to direct the conversation to spiritual things and be a witness of the Lord.
In between my trips to Mexico, one of my friends had the vision to start a door to door witnessing effort in my hometown. He teamed up with our church pastor and a couple of the men from the church to bring the vision to reality. During the year and a half or so that we went out once a week, I learned more about talking to people than I had in the 16 years to that point. Seeing older men and their reactions/responses and knowledge of the Bible had a huge impact on me. I knew that I needed to be like them to be an effective witness for the Lord. As each Tuesday would roll around, it was also a huge motivation to confess anything I had not gotten right with the Lord or other people. I could sense an enormous difference spiritually if I was not right with the Lord before going out witnessing. That was another important lesson imprinted on my heart from those times.
Here are a few practical suggestions for those who want to more effectively share their faith with others:
1) Start somewhere. Try to find someone who has experience, and then just do it.
2) Prepare key verses ahead of time and memorize them.
3) The Scriptures are your most powerful weapon; don't be afraid to use them! Intellectual reasoning has its place, but using Scripture is always your best "weapon."
4) If you don't know the answer to someone's question or argument, make it a point to find the answer. You may or may not be able to go back to the person, but someone else may bring it up and you better have done your homework after the first time!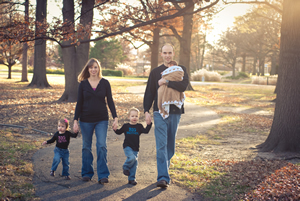 Now that you're married and have children, what are your thoughts and plans for their education?
My wife and I are going to homeschool our kids. We want to be the people most involved in our children's development, upbringing, and education, and homeschooling fills that desire better than any other option at this point.
Your family has recently launched some home business ventures. Will you tell us about them?
We have several branches of our fledgling home business. When our first child was born, I built him a changing table that doubles as a dresser. It is one of our most used pieces of furniture – even now with three children! Because of how much we like ours, I've built several others since then and am offering the same design for sale. I can also do custom work if someone wants a different design. I also build and sell doll furniture, and my wife, Tiffany, makes tutus in a variety of colors and sizes.
Another branch of our business is all-natural, handmade goat's milk soap. Goat milk soap is naturally moisturizing and free of chemicals. We started using it to alleviate our son's eczema. After seeing it completely clear up his skin irritations, we were convinced it was a good product and became distributors. We don't have this on our website, so the best option for more info on pricing, fragrances, etc. is to e-mail us at chiffanys@gmail.com.
Our website is chiffanys.com. It's still new, so we don't have everything up yet, but we will be updating it in the coming days.
In what ways do you think homeschooling contributed most to your life now as an adult?
My relationship with the Lord is at the top of the list. I wouldn't have the depth of relationship with Him if it weren't for my years of homeschooling.
Secondly is my love for learning. This wasn't always the case, but as I matured I grew in my desire to learn, and homeschooling gave me the tools to do it.
Finally, the character that my parents sought to instill in me has proved invaluable in my workplace. Seeing the fruits of being honest, responsible, and hardworking has opened opportunities I would not have had otherwise. I am glad for my home school background and feel that it gave me an edge in my faith in God, purpose in life, learning, and work ethic.