After helping extensively with the promotion for Come What May several years ago, I was excited to find out recently about a new book that is a novelization of the movie. When I was contacted about posting a review of the book, I knew just who to get to help out – my sister, Noelle! She does book reviews for the fabulous Generation Impact, and she graciously agreed to read the book and write a review for the Pajama School blog. So, without further ado, here is her review: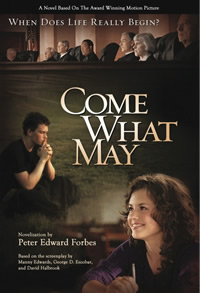 Knowing very little about the book, I started Come What May by Peter Edward Forbes mostly hoping it would be at least a little interesting. Within the first few paragraphs I had already come to my conclusion – I was hooked! From the 1st chapter Mr. Forbes draws you into the life of Caleb Hogan, a college student intent on winning the upcoming moot court national competition.
Though I had no previous knowledge of moot court, or anything that goes with it, there was never a point where I felt lost or confused regarding the terms or processes involved. This was probably due to the fact that Mr. Forbes very seamlessly interwove any explanation needed without drawing away from the story itself.
Not only was it an informative and interesting story, (as well as unique), I also found myself increasingly intrigued by the world of moot court and the preparation those involved put into their arguments.
Come What May highlights the struggle each of us, as Christians, face to compromise our values and morals, and how even a small compromise can have far-reaching consequences.
Whether you're interested in moot court, or simply looking for a good read, this is one book I would wholeheartedly recommend.
~Reviewed by Noelle Wickham