Tonight Dad and I attended the South Central Delegation Legislative Public Forum (who but someone in government could come up with a title like that? but I digress…). The forum we attended last session was primarily a few legislators giving an update on what was going on at the statehouse and then opening the floor for a brief time of questions and answers from the attendees. This forum was the complete opposite.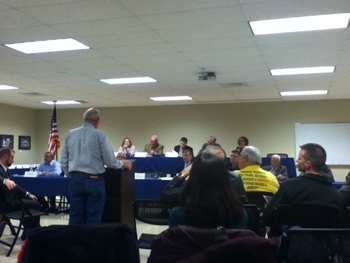 A good hour and a half was devoted to allowing various citizens from the community to present issues and concerns to approximately a dozen legislators that comprised the panel. Upon arrival, each person was given the option of just signing in as an attendee or signing up to speak. Once the lists were turned in the presentations began. Each speaker was allotted three minutes. Even though I don't have any issue of particular interest or concern to me right now, it was fascinating to listen to those who did make presentations. Even more fascinating was observing the mannerisms and approaches of each of the speakers and then watching to see how the legislators reacted to them. As I observed I jotted down notes on what seemed to garner the attention and interest of the panel. The result is this collection of 5 Tips for Presenting an Issue to Your Legislator in a Public Forum:
Dress and speak professionally. In the course of attending many training seminars over the years one thing often rings out in my mind: dress to convey the importance of your message. Show that you are taking yourself, what you have to say, and the opportunity seriously. Others are more apt to do so, then, too.
Know your issue. This should go without saying, but the people who seemed to have the greatest impact in the discussion were those who had specific bill numbers, dates the bills were being reviewed in committee or presented for a vote, hard facts and statistics to back up their claims, and excellent references.
Clearly articulate what you want the legislators to do with the information you present. Anyone familiar with the political process knows that there are hundreds or even thousands of issues and bills that vie for the attention of those in office. Once you cite the bill number and when it will be coming up for review or vote, indicate your position and what you would like the legislator to do about it. For example: "When HB2319 arrives on the floor of the House next Thursday, I am opposed to it and I urge you to vote against it."
Adhere to the specified time limit. In my years of studying and learning to be a more effective public speaker I read one author whose premise was that if you can't make your point in 30 seconds you won't be able to make it in 30 minutes. Think clearly. Know what you want to say. And say it as succinctly as possible. No one on the panel or in the audience wants to hear you drone on about your personal family matter that is compelling you to take a side on some issue. On the other hand, don't gloss over important information that will help the listener fully understand your position on the issue and why they should adopt the same. Don't be afraid to use your time; but don't force them to call in security to commandeer the mic from you either. Find a happy medium and you'll have more friends for it!
Prepare a handout to leave with the legislators outlining your key points and what action you'd like them to take. I assume this is incredibly helpful to those listening so that they can review the information later when they aren't in a public forum. It will also free them up to give you their full attention and not feel the need to take detailed notes during the presentation. Plus, it shows that you care about the issue and have invested your time and energy to bring it to their attention in the most helpful way possible. Almost every legislator solicits and appreciates input from his or her constituents and finds it beneficial in framing their own position on a particular issue.
Both your content and manner of conduct can make a significant difference in a public presentation. I often think of Proverbs 18:21 "Death and life are in the power of the tongue, and those who love it will eat its fruits." You never know how far-reaching the impact of your words will be. It's worth it to put in the effort to speak well.